Certificates
MORNOS-IMS CERT-LIDDING-FEB2022
MORNOS-IMS CERT-CONTAINERS-FEB2022
RecyClass Resycled Content Traceability Certificate
Mornos S.A.is the first Greek company which produces packaging materials that has been certified for using certified recycled material, in accordance the RecyClass «Recycled Plastics Traceability Certification» audit scheme
ΕΛΟΤ ISO 45001:2018
OHSAS 18001 Occupational Health and Safety Management Certification is an international standard which provides a framework to identify, control and decrease the risks associated with health and safety within the worklpace. MORNOS SA implementing the standard sends a clear signal to its partners that views employee's health and safety as a priority within its organisation.
ΕΛΟΤ ΕΝ ISO 9001:2015
ISO 9001 is the international standard that specifies requirements for a quality management system (QMS). MORNOS SA uses the standard to demonstrate the ability to consistently provide products and services that meet customer and regulatory requirements.
ΕΛΟΤ EN ISO 14001:2015
ISO 14001 is the international standard that specifies requirements for an effective environmental management system (EMS).MORNOS SA has incorporated it in its management system to manage environmental aspects, fulfil compliance obligations, and address risks and opportunities.
FDA/IMS (U.S.Α. Food and Drug Administration, Interstate Milk S
FDA / IMS is a Certification Program for Manufacturers of Single-Service Packaging Materials For Food. MORNOS is certified as a packaging materials' manufacturer who meets the FDA Single-Service Packaging Standards and is included in the <IMS List> as a high standard hygienic plant.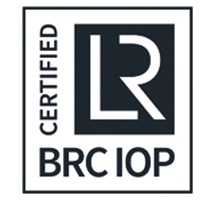 BRCGS Global Standard for Packaging Material Issue 6, August 2019
BRC Global Standards' guarantee the standardisation of quality, safety and operational criteria. MORNOS' compliance to this standard ensures that its legal obligations are fulfilled and provides protection for the end consumer.